Add picture to sidebar WordPress
Wed, Sep 23, 2009
An easy way to add a picture to your sidebar of a WordPress blog is to add a text widget with HTML code linking to your image using the following steps:
From your WordPress Admin Dashboard click the Appearance menu on the left side.

Click Widgets

Drag the Text widget to your Primary Sidebar.

Input some basic HTML code to link to your image: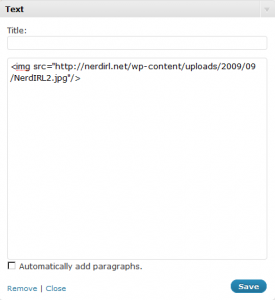 Click Save!