How to fix "The current input timing is not supported by the monitor display."
Fri, Apr 6, 2012
"The current input timing is not supported by the monitor display. Please change your input timing to 1920×1080@60hz or any other monitor listed timing as per the monitor specifications."
For me this occurred when I swapped my larger, older monitor that had gone bad with a newer, smaller Dell monitor.
This error appears to be Dell monitor specific.  From what I've read, which matches my scenario, it seems to happen when you're outputting a certain resolution from your PC, then switch to a monitor that only supports a maximum resolution lower than your previous monitor.
The fix is relatively simple…
Reboot your PC (hold the power button down for 10+ seconds, if need be)

Continue tapping the F8 key until you reach the boot diagnostics menu
Select Enable VGA Mode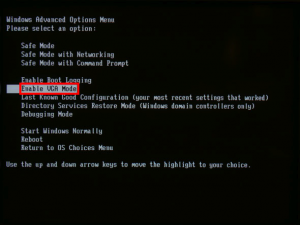 This allows you to boot into Windows like normal, except with the resolution and refresh rate set to the lowest setting possible.  Login as you normally would, then set your resolution to your monitor's native rate (i.e. the resolution from the original error message).